Ardbeg celebrates 200 years this year, and naturally there are some new releases involved. The first was called Arbeg Perpetuum at 49.2%, available at the distillery only (Thomas has tasting notes for that one over at Whisky Saga). To celebrate Ardbeg Day, another version, also called Perpetuum, is being released. It was made available from the Ardbeg web shop on the 4th of May to Committee Members only, but the committee is no longer a small, select group, and the web shop crashed. A lot of people decided to wait for world wide release, to happen on Ardbeg Day, 30th May. But in Norway we have the Vinmonopol, and they operate on their own schedule, with no nods to *cough*hyped*cough* Scottish distilleries, so that the Ardbeg Perpetuum that became available to order on the May release last week (8 May) is the Ardbeg Day version at 47.4%. I got mine today, and naturally had to try it at once.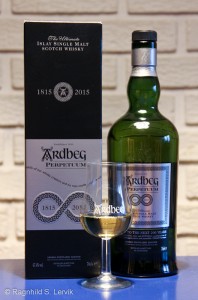 Nose: Warm, peaty smoke, grilled banana, grilled apples, vanilla, some dusty malt. The smoke aqcuires a colder note with water, and I get wool dust and wellies. And "pulverpadder" (a sweet very like tyrkisk pepper, but with a dusty coating).
Palate: Concrete dust, peaty smoke, vanilla ice cream and black pepper. The finish is bitter, dark chocolate. With water I get slate and cold smoke, something fruity in the background and still vanilla ice cream.
Comments: Moreish. I am an Ardbeg-fan, still, even if the prices are getting more than somewhat ridiculous (even with this one, almost 1000 NOK for a NAS? That's stretching it, if you ask me). But even so I am pleasantly surprised. I like Perpetuum better than I have liked most recent new releases from Ardbeg, partly because it's more complex than the  run of the mill "heavily peated NAS" (even Ardbeg's own). Worth the price? Well, I don't think I'm going to stock up, but I am pretty pleased with the purchase.