On board Celeste, with the Orkneys in sight, 22 August 2014
During the watch before ours (between six and nine pm Thursday, that is) the wind picked up sufficiently, so we could turn off the engine and hoist the sails. According to Åsa they had managed 10 knots, with the number 2 jib and the mainsail.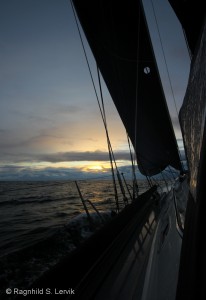 We held 7-8 knots for a long time (nine to midnigh watch), but we were headed straight into an area of clouds and once in it the wind went slightly mad and our speed varied between 3 and 7 knots. At some point it stayed at 3 for a long time, so we started the engine, but then the wind naturally picked up again, so we resigned ourselves to trying to make the most of it.
When we came off watch at midnight, the speed had settled at a steady 7-8 knots, so we were doing ok as far as concerns the schedule. I was nowhere ready to get out of my bunk when I was awakened at twenty to six (yet again it had taken me hours to fall asleep), but once on deck I could see it was a promising morning.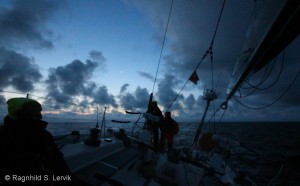 Suddenly, five or more dolphins were playing around the bow and I saw a puffin in flight (gotta love puffins! And dolphins!).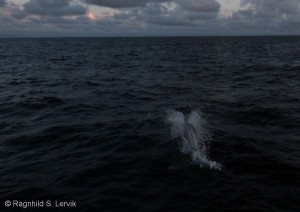 And before half an hour had passed we sighted land!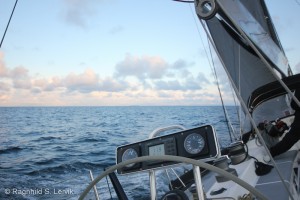 And suddenly sailing was again the best thing ever (but I'm still looking forward to sleeping in a normal bed).