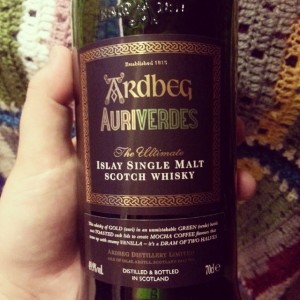 Nose: It smells like Ardbeg. Well, ok, smoke, a little banana, log cabin, a little varnish and some dark chocolate. Water brings out a bit of wax and rosemary and leaves a lot of smoke.
Palate: Smoky log cabin and dark chocolate. Cold rock on the finish. With water the smoke is still dominant, but I find some tropical fruits and a hint of menthol. A little bitterness develops on the finish, and I conclude I prefered it without water.
Comments: For a peathead this is obviously not bad, but it's not exactly worth the asking price, either. You get smoke, and plenty of it, cheaper from other sources. The nose is best with a little water, the taste without. I will probably drink the rest of my share (I split the bottle with a couple of other people) without adding water.