Well, I can't say I was jumping for joy when I discovered that Bunnahabhain have discontinued Darach Ur and replaced it with another Travel Retail Exclusive. I would have liked a little forewraning, at least, so that I could stockpile some bottles of one of my favourite whisky bottlings EVER. Well. Since I have liked what Bunnahabhain have done with their NAS bottlings in general, I picked up an Eirigh Na Greine when I cam through Aberdeen Dyce on my way home from the Orkneys (more, much more, on that later).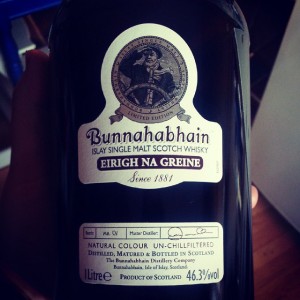 Nose: Malt and sweet plums, dryish wood fire, milk chocolate. With water I get chutney made from tropical fruits, with more water the fruity impression becomes fresher.
Palate: Malt, spices, orange peel, tropical fruits, milk chocolate. A lightly bitter finish. Water brings out digestives with orange marmalade.
Comments: Slightly too bitter on the finish for my palate, and it does not hit the mark in teh way the Darach Ur did. Still, it's a pretty good dram, with a lot of action both on the nose and the taste considering the price.