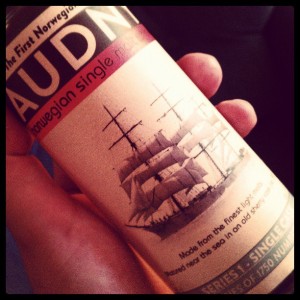 Nose: Vademecum. With a little water it softens into a more normal spicyness with a hint of menthol.
Palate: Vademecum on the palate as well, with underlying malt and some oaky bitterness.
Comments: Needs some time in the glass. First impression is much like with a lot of other non-Scottich whiskies, viz "it's nice, but is it whisky?", but with some water and air I'm beginning to think it's pretty good. Not  "Norvege douze points" good, but a very respectable first attempt.