November sees the release of two new Gjoleid bottlings at Vinmonopolet (not available from other retailers, as far as I know) I should have had tasting notes for both to share, but due to a mix-up I've only had the chance to taste the one they've named "Blindpassasjeren" (The Stowaway). It has matured in an ex-sherry cask for "almost five years", but the unusual thing about it is that before the malt spirit was filled into this cask it had held aquavit for a period, which it is natural to expect will have had some influence on the whisky. The cask has also been walkabout (or sailabout, rather) along with the Linje Aquavit, and has crossed the equator twice between February and June this year.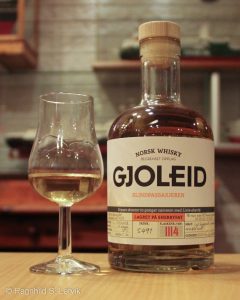 Nose: Cumin, some newmake character, oaky sweetness. Towards aniseed with water, and aquavit-notes, but the malty spirit is still discernable beneath it all.
Palate: A light note of cumin, clear oak notes, the relatively high ABV is obvious. With water the taste also turns to aniseed.
Comments: Very easy drinking, and quite "aquavit-like". A nice combination of the two types of spirit, who'd have thought aquavit-cask would be a success? I'm definitely bagging a bottle or two come November.