According to Edrington's representative in Östersund, Knob Creek is made from the same mash as Jim Beam White, but it has been matured for 9 years (as opposed to Jim Beam's four).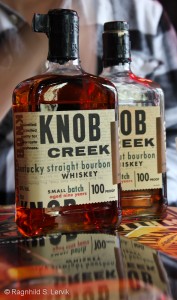 Nose: Vanilla, oak planks and slightly tart mango chutney. With water it acquires an unfortunate sour note that reminds me too much of vomit to be pleasant. It's also got the dry icing sugar note, though.
Palate: Oak, a whiff of perfume and more oak. Icing sugar and oak with water, bitterness from the cask and, uhm, almonds, I think.
Comments: I'm not exactly convinced, and I actually prefer the younger version, if we can call the Jim Beam a version. This has too much cask and not enough of anything else for my palate.