Distilled 13.12.1990, bottled 12.06.2007, from cask number 15688. 1st fill sherry butt.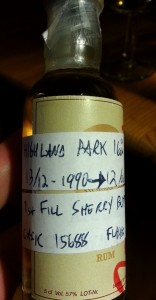 Nose: Quite closed. A little vanilla and baked pears. Water brings out smoke, orange peel and white flowers.
Palate: The smoke may be hiding on the nose, but is obvious on the palate; cold bonfire. Also freshly baked wholemeal bread with honey. With water the smoke turns chalky, and I find flower nectar and honeydew melon.
Comments: First a note on the colour. It's not obvious from the picture, but this is hardly darker than the average white wine. What's up with that? 1st fill sherry should normally be much more visible. And the nose and palate have no very obvious sherry notes, either. If you buy this because you like sherry bombs you will be bitterly disappointed.
But otherwise: What's not to like? A really, really nice Highland Park cask Signatory have got their hands on, even if it seems to be mislabeled.
Another sample I have forgotten the origin of. I really need to create a better system for samples!