Friday evening there was a celebratory dinner with all the expedition members, both those just arrived on Celeste and those taking her back the morning. I retired as early as possible and collapsed into bed. I awoke at some point in the middle of the night with no idea where I was. The bed was swaying, but I was obviously not still on the boat. I met Martin at breakfast next morning and he said he'd found himself clinging to the wall in order to get to the toilet during the night, not trusting the floor to stay still, so I wasn't the only one having problems with sea legs syndrome.
Now, what with all this talk of no sleep and longing for a stationary bed, you might think I'd have a leisurable morning? Bah. There was a whole island to discover (and anyway, with 8 hours of sleep I felt much, much better). The day before I'd asked Martin how far it was to Scapa, whether one could walk there? "No, it's too far" was the answer. But we'd seen Scapa Bay from the Highland Park rooftops, so I didn't trust that answer, and Google was on my side, so after a hearty breakfast I set out.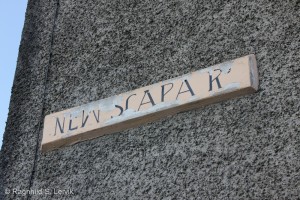 The weather was perfect for a ramble, and there was plenty to see along the way. It was also quite pleasurable to be able to really step out after spending the week on a boat that, no matter how big, didn't really allow for walking much. It took me a little under an hour to reach Scapa Bay.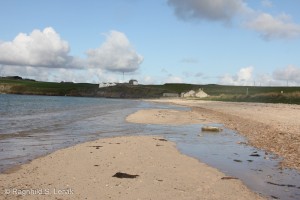 The easiest viewpoint from which to see Scapa, and take pictures, is from the bay, or even the water (though I had no boat, so I couldn't verify that). Once there I obviously had to walk around to see what it looked like from the entrance side, but that had little to offer (as expected). I seem to have heard a rumour that there are plans afoot for a visitor centre at Scapa, so perhaps I will have more luck when I next make it to Orkney. (I can't remember WHERE I heard the rumour, so don't jump for joy just yet.)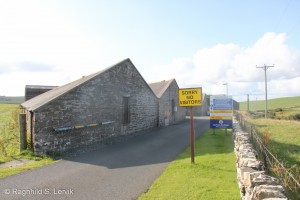 Well, I had a plane to catch anyway, so I headed back to Kirkwall, choosing a different route, packed my bag and joined a couple of the others in a taxi to the airport.
In Aberdeen I found that there was a Kaffe Fasset exhibition on at the art museum, much joy. I stopped by Casc Bar and Brewdog (I will write specifically about them later), and on Sunday I flew back home. Thursday, almost a week after landfall at Kirkwall, I finally felt the fog of sleep deficiency lift. I think perhaps I should rethink this idea of becoming a sailor.
Some more pictures from my trek over to Scapa Bay:
[Best_Wordpress_Gallery id="4″ gal_title="Kirkwall til Scapa Bay og tilbake igjen"]