On board Celeste, south of Arendal, 19th August 2014
The trip from Trondheim to Gothenburg via Oslo yesterday morning went without a hitch, apart from having to get up way too early at 4.30 am. Finding a taxi presented no problem, and the driver seemed to know where he was going until we got to the marina, when he missed Långedrag and ended up in the neighbouring marina at first. But the mistake was easily corrected and as soon as I got out of the taxi I met Åsa, who was also wearing the fetching expedition jacket, and to see Celeste of Solent (or Farr65r as she is also known) for the first time.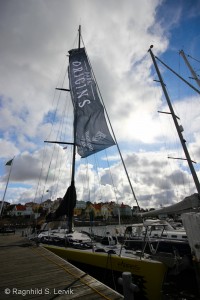 There were quite a few things to be done before we could set off. A photographer from the Swedish event agency was there to capture the whole thing, and several of us also made the best of the brief sunny spells. We also had a round of presentations and were briefed on the schedule and on the safety procedures on board. As I had expected alchohol is prohibited while we're sailing. The event management had been a bit hazy on this and suggested that a dram or two would surely be poured, but I was not surprised to find they were wrong. We're supposed to act as crew, after all, and have three hour watches (so six hours off between them). And the captain was adamant: No alchohol until we dock in Kirkwall.
One of the other participants – Jalle – organized anti-sea sickness patches for anyone who wanted one, so I now have one behind my right ear. I feel no sign of sea sickness yet, and am grateful for that.
We left Långedrag running the engine and set sail before we got out of the coastal archipelago (the number 4 jib and the mainsail, for those of you who are technically minded), and set a course northwest towards Norway, close hauled to the wind which was coming from the west.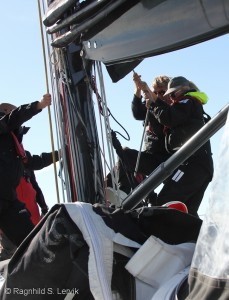 Celeste was soon at a good angle, and the speed varied between 7 and 10 knots.
We've been divided into three watches, with one person from Sjösport (Celeste's owners) in charge of each watch; Bengt (the captain), Jens and Karin. In in Karin's watch, with Jörgen (who has sailed quite a bit) and Jalle and Richard who are both less experienced than me (which is to say complete beginners, more or less). We had our first watch from nine pm to midnight last night, and Jalle got to start at the helm while there was still daylight, and there he remained, which I was quite happy with. I'm frankly a bit terrified at the angle of the boat, which feels like 45°, but is probably more like 30°, with moderate waves, but with a rather unsteady wind which had to be compensated for. Rationally I know that overturning is not actually very likely (like Karin said: The mast or sail will give way first), but my instincts (fed by a number of shipwrecks in fiction – blame Patrick O'Brian) would not listen to reason. Hopefully it's partly habit and I'll be fine with it after today's two day watches (as tonight promises to be rough).
After the change of watch at midnight it was time to hit the sack, as we were going on watch again at six. I sort of slept, though hardly soundly (or continously). Down below it basically sounds like the boat is about to sink any moment. Well, hopefully that's also something I'll get used to. A Ragnhild with insufficient sleep is not a functioning entity.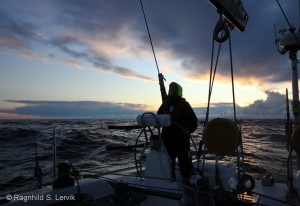 When I emerged on deck at six the next morning I had realised that the sea was calmer, but had failed to notice that we were running the engine. The sails are still being filled, but the wind has fallen to seven knots (compared with 20-30 yesterday). So today we head along the Norwegian coast towards Lindesnes.