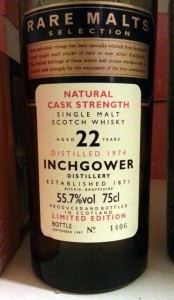 Nose: Orange, melon and malt. With water green leaves and after a while in the glass suddenly intense butterscotch, then later again goat willow and lemon sherbet.
Palate: Malt, wood, herbs, Bitter finish. With water it develops fruitiness with underlying moss.
Comments: Very intriguing, a lot happens in the glass and I was told even more happened when the bottle was newly opened (I had one of a bout three drams left in the bottle for a month). One of those Rare Malts I'd really like more of, because it's interesting, but also very, very nice.