Matured in an ex-bourbon hogshead, bottled 2010 by The Whisky Agency exclusively for Sweden.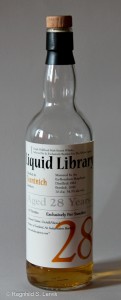 Nose: Quite a bit of alchohol, pear ice cream and a hint of orange. Water adds menthol and more fresh pear fruit.
Palate: Oak and a little apricot. With water I find some dark chocolate notes, some coriander and a hint of menthol.
Comments: Quite definitely drinkable. Not so fantastic that I will cry bitter tears once the bottle is empty, but quite nice enough that I will contribute to emptying said bottle.