This is a bottlig of Highland Park which was launched in 2013 exclusively for Sweden, in half bottles. It's a NAS and it's been matured in European ex-sherry casks. It's still widely available in Sweden for the relatively nice price of 299,- SEK.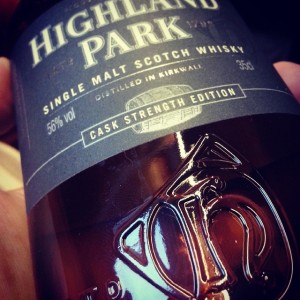 Nose: Milk chocolate, burnt oak and ice cream. The relatively high strength is very obvious, despite the sherry influence which often masks a high ABV. With a little water added I can get my nose deeper in the glass and find dried orange slices, honey and old, dry leather. A little liquorice and a touch of manthol. Another drop of water and it suddenly develops a nice, flowery character. Sweet lilac crossed with flowering heather.
Palate: A hint of smoke, burnt oak and also a hint of burnt rubber. With water I get barbequed orange peel and herbs, and the rubber disappears. A whiff of smoke lingers in the background.
Comments: Perhaps a candidate for our travelling dram this summer? A very, very able dram for everyday wear. It's not a stunner, but I could drink dram after dram without becoming bored, and 35 cl is a very handy format.