Tomorrow, 28 September 2013, it's open day at Fary Lochan, and the Danish distillery releases its first whisky. The very first bottle will be auctioned off, and stock holders have been able to pre-order. At 1500 DKK for 50 cl the whisky had better deliver…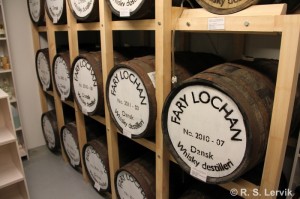 We visited Fary Lochan in 2011. At that point they sold newmake and bottles with newmake and an added bit of charred Danish oak. The theory was that the spirit would mature in the bottle. The mini-stave is of a size calculated to the proportion of exposure in a cask, but the destillery manager, Jens-Erik Jørgensen, said that they had noticed that the "maturation" was much quicker than expected and they expected that the "whisky" would reach its peak some time during 2013 or 2014. We decanted 20 cl from our bottle before the summer, and we're planning to decant another 10 or 20 before the end of the year. The dram I'm tasting tonight is from the bottle cotaining the "stave".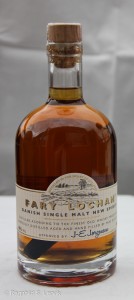 Nose: Newmake, a little paint stripper. Water brings out spice and tart apples, but the paint stripper remains.
Palate: Weird. Newmake with oakiness. It tastes a bit like newly varnished wooden floors (not that I've actually tried to eat a newly varnished floor, mind you). Water releases a hint of spice.
Comments: The nose is just horrible. The palate is a little better, even if I'm sticking to the varnished floors. It also appears rather unbalanced, the wood is not well integrated with the spirit.
I remember the "clean" newmake as pretty good, so my conclusion is that though the idea of a stave in the bottle is an entertaining one, it does not work the way it was intended. We've got a bottle of the untarnished (I almost wrote "unvarnished") newmake as well, but it's in the cupboard that's so child-proofed even we can't open it (well, not without undoing the child-prrofing permanently). But once I can get at it I'll write notes, and perhaps revisit this, too. We'll put off decanting any more, I think, at this stage it's not worth keeping.